Regulatory Traffic
Meet the exacting rules and regulations on every road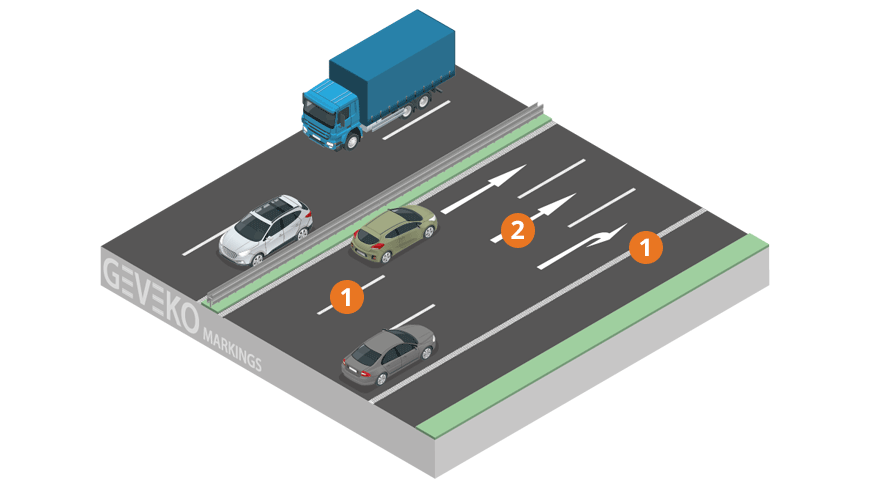 The solution
All you need for your road marking requirements
1

Edgelines, centre line, and lane markings
For linear markings on high-traffic roads, we specifically recommend our hot-applied products or plural component systems. These products can be applied as both flat and structured markings depending on the road conditions and requirements. With Type I markings you get a high visibility at night in dry weather conditions, whereas Type II markings have special properties that enhance retroreflection and provide a high visibility in wet or rainy conditions as well. Type II markings are typically seen as structured markings, which have an added safety benefit in that it generates a rumbling effect to keep drivers alert if they drift across road lines.
2

Arrows, legends, letters and numbers
To help drivers navigate and ease traffic flow on busy roads, arrows, legends, letters, and numbers is a great way to offer guidance. Our preformed marking range includes all types of symbols to cover this need. These markings have a high level of retroreflection which makes them visible at night when car lights reflect in their surface.
Make traffic safer now and in the future
Applied on roads across most of the world, ViaTherm™ is known for its high performance and long-term durability when applied as centre lines, edge lines, hatched areas, and pedestrian crossings.
Add to this that ViaTherm is also a way to future-proof the roads. With its high level of retroreflection, it offers the necessary visibility for both human drivers and autonomous cars to ensure a safer traffic flow on all roads - now and in the future.
To function optimally, the sensors and cameras of Advanced Driver-Assistance Systems (ADAS) need to be able to navigate the roads – and here, road markings will continue to play a vital role.
Simply stated, road markings that are visible to human drivers are also visible to cameras and sensors. This is a good rule of thumb to keep in mind when choosing marking materials for the road.

Future-proof the roads with Type II markings
When applied as a Type II marking, ViaTherm provide high visibility even in wet and dark conditions where road markings can otherwise be difficult to detect for humans and ADAS alike. In Denmark, for example, it has already been decided that all lane markings on the motorways will be replaced with ViaTherm™ LongDot within the coming years.
Explore our certified product lines
Keep the roads safe with durable, high-performance road markings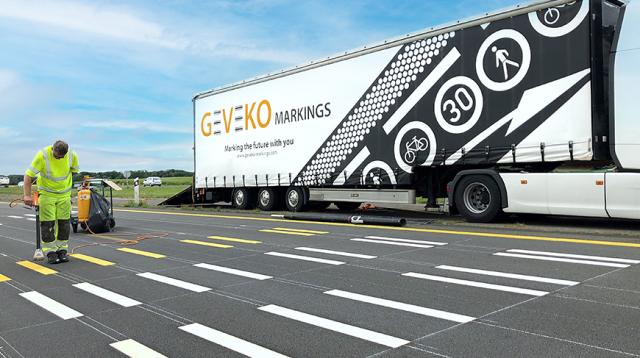 Certified safety on all roads
Our extensive product range specifically for the road helps guide road users and ease the traffic flow by means of signs, symbols, and highly visible line markings. The majority of our products are certified and approved according to national regulations on performance and design.
The mark of quality
Before a road marking material can be applied on public roads, it must be tested, certified and classified to establish the level of quality and performance. In short, the certification of a product, is a mark of quality. It guarantees that a product conforms to all the technical requirements defined by official standards and certification rules.
Around the world certification
Our materials have been tested and authorised according to several international programmes and are used in many different countries.
Australia: APAS
Belgium: Copro
Czech Republic: ZDZ
Denmark: VTI / Ramböll
France: Ascquer / Afnor
Germany: BASt
Netherlands: Kiwa
Norway: VTI / Ramböll
Poland: IBDiM
Slovakia: VUD
Spain: Aetec
Sweden: VTI / Ramböll
UK: BBA / BSI
USA: AASHTO / NTPEP