Decorative Preformed Thermoplastic
Easily applicable markings for colourful and creative results
With our decorative preformed markings, it is easy to give any park, playground, or public area a creative and colourful makeover. In fact, it's all up to your imagination!
Application is fast and easy as it requires only one person, a broom, and a heat torch to create stunning results. DecoMark is available in a wide variety of standard colours, and the flexible material provides you with a range of possibilities to create decorative bespoke designs or choose from our wide selection of inspiring designs.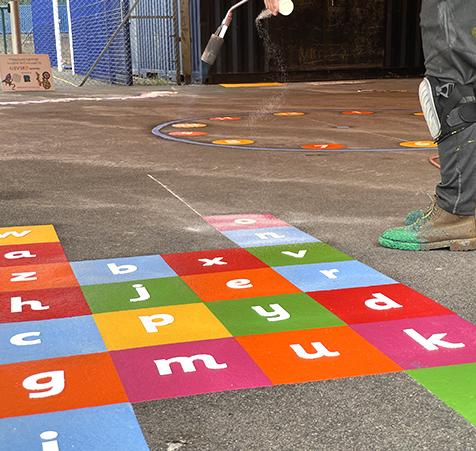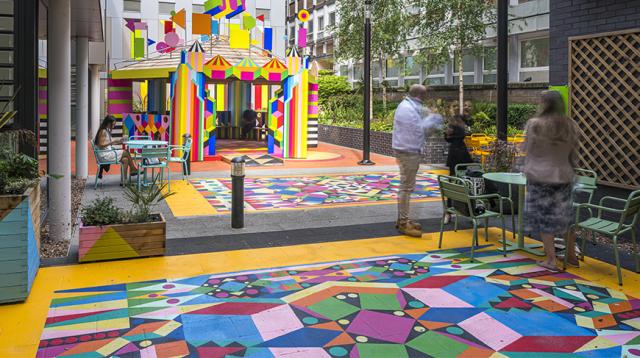 Benefits
No budgetary or machinery considerations are needed when choosing DecoMark as it is simply applied with the use of a heat torch making application fast and easy.
Avoid frequent re-applications as composition of the thermoplastic material makes the UV resistance high, so that the colours stay brighter for longer.
Minimise the risk of skin problems and allergic reactions, as DecoMark only contains organics pigments and no lead or other heavy metals making it safe to use and unharmful for the environment.
Save application time when installing complicated signs with the DecoMark Easy system in which the individual pieces of the marking are glued together on the backside giving you perfect control over complex markings.
DecoMark™ coloured carpet on the left at Sheffield Hospital: ©Photograph Gareth Gardner and Artist Morag Myerscough.
Colourful and environmentally friendly
Our palette of 26 different colours makes it easy to design decorative signs and symbols to fit every need. Made from non-toxic materials, DecoMark is free of heavy metals, lead and chromates. The pigments used are all organic and more than 70% of the binder is acquired from sustainable sources.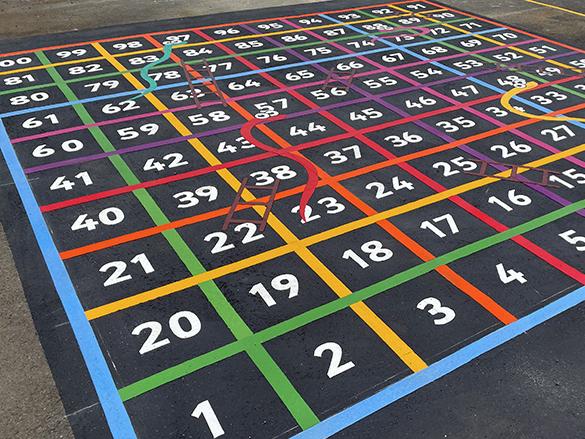 Simple and fast application
No big investment or machinery is required when choosing preformed thermoplastic. The precut symbols, games, and designs are ready to use and can be laid all year round on various surface types.
When heated, the material creates a strong bond with the application surface. This combined with the durability of the material, ensures a long service life that can last 6–8 times longer than markings painted on the road surface.