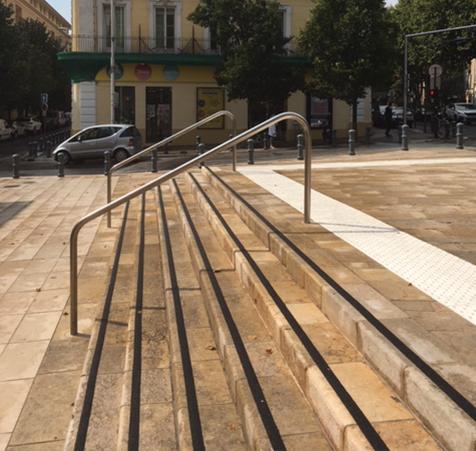 Slips and falls are major safety hazards for people both with or without disabilities. By making sure that the horizontal surfaces in public areas and workplaces are safe to move around on, you can prevent many potential accidents – and with our GripTech™ range, you need to look no further. This product range includes indoor and outdoor anti-slip solutions to increase safety and limit the risk of falling in risk areas such as stairs, ramps, or slippery surfaces.
Benefits
Increase safety in particularly hazardous areas with GripTech's high level of skid-resistance that helps prevent slip-and-fall accidents.

Increase attention to edges on stairs and platforms by choosing a GripTech product that provides a visual contrast that makes it easy to see.
Products within the range
GripTech™ T Grip
Preformed anti-skid lines and sheets to increase safety both visually and physically by creating slip-resistant surfaces with coloured contrasts. We recommend it for stairs, steps, and slippery surfaces.
Benefits
Increases safety in hazardous areas by adding skid-resistance that prevents slip-and-fall accidents as well as visual contrast that increases attention to edges on stairs and platforms.

Depending on the need at hand, GripTech T Grip is available in both lines and sheets making it suitable for different types of applications and surfaces.

GripTech T Grip can be applied by heating the material thus creating a durable bond with the substrate and also comes in a MX version for fast and easy application.

Can be combined with PlastiRoute in order to create a complete solution for colour-coding or marking restricted areas with a dirt-resistant and durable result.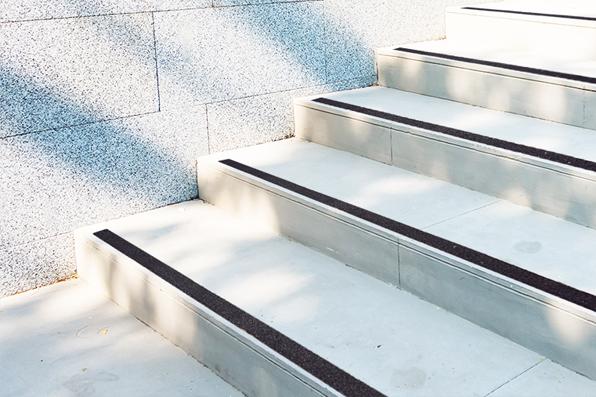 GripTech™ Roki MX
Easily applicable preformed lines with an extremely high level of skid-resistance for multiple anti-slip purposes. Recommended for stairs where they apart from the anti-skid properties also work as a coloured visual contrast on the nose of the steps.
Benefits
Quick and easy application with the MX application system which doesn't require any glue or separate adhesive layer to be applied.

Minimise the risk of slip-and-fall accidents with GripTech Roki MX which has been tested according to the EN 13036-4 standards, guaranteeing you a slip-resistance that lives up to the requirements.

Combine visual and tactile safety enhancements in one product, as GripTech Roki MX provides both a very strong skid resistance and coloured contrast for the pedestrian.
MX application system
The GripTech product range also comes with a unique and very easy application system called MX which requires no glue or separate adhesive layer.
MX is a high-performance adhesive on the back of the product. It is protected by a parchment paper that is simply removed before application after which the product is manually pressed down onto the surface.
Depending on the surface material, ACTI-SOL activator can be applied beforehand if necessary.