AquaRoute™ is our line of waterborne road marking paints characterised by their easy use and fast-drying abilities. There are no special restrictions in order to work with our AquaRoute paints as they don't contain any hazardous materials. They are available in a wide range of grades from temporary to high durability and can be used to create both smooth and rough surfaces.
Benefits
Minimise the environmental impact of your markings by using our AquaRoute paints which consist of non-hazardous material with low VOC.

Reduce the shutdown of traffic by spraying your AquaRoute application with the TwinDry-accellerator which speeds up the drying time.

Avoid any unnecessary hassle in the application process as our waterborne paints make cleaning the equipment fast and easy.
Products within the range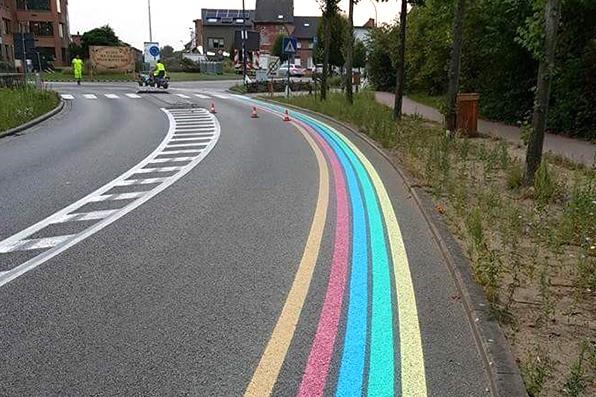 AquaRoute™ Tempi
This temporary water-based paint is the ideal choice if you are looking for non-permanent road markings for events like city runs and festivals or need to re-route a road for a limited time period. The lifetime of the marking is between 3-8 weeks depending on the thickness of the marking, place of application, and general wear and tear. If necessary, it can be removed by high-pressure water jet blasting.
Benefits
Avoid confusing, permanent markings in areas where they are not needed with this temporary waterbased paint.


Get the exact color strength you need by controlling the mix of base and paste.

Save time with the easy application and cleaning process, as AquaRoute Tempi can be applied with airless equipment or hand tools and is easily cleaned off.
AquaRoute™ RaceLine
This is our waterborne paint developed specifically for use on race tracks where every minute detail matters. AquaRoute Raceline offers all the properties required for car races - including excellent surface adhesion, high performance, and fast-drying abilities.
Benefits
Create the optimal driving conditions with AquaRoute Raceline markings which has the same unique adhesion and friction properties as asphalt and therefore don't affect the driver.

With its fast-drying abilities, AquaRoute Raceline allows for effective application and minimum disturbance of the track that can quickly be re-opened.
AquaRoute™ AL
AquaRoute AL is the ideal marking material in situations when a fast drying time is required and is suitable for locations with limited traffic.
Benefits
With its special formulation allowing a pass-over time of under 4 minutes after application, AquaRoute AL is the recommended choice when fast drying abilities is required.

With a range of colours to choose from, you can be sure to get the colour tone that matches your specific requirement.